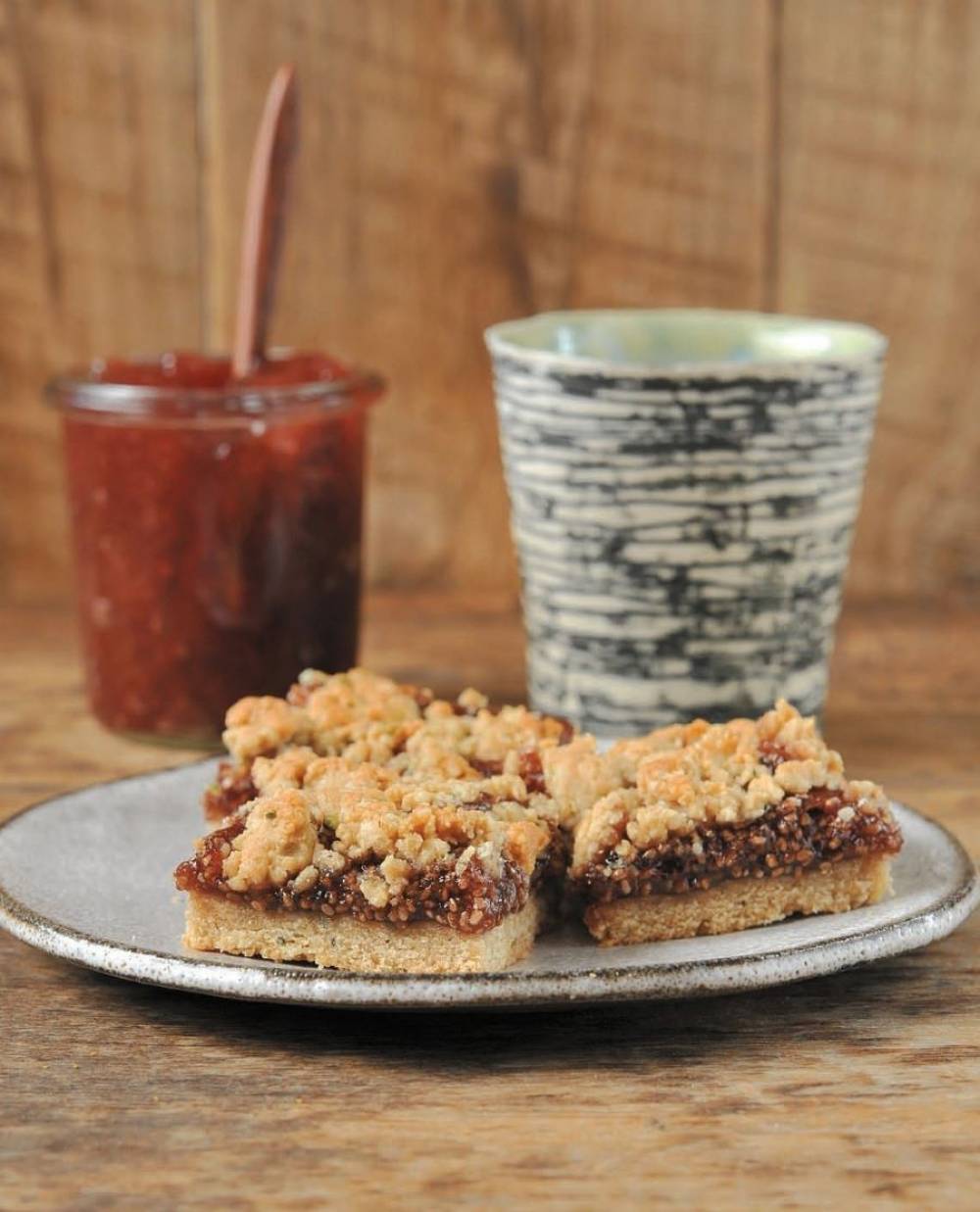 ►Makes 16 Squares
Non-stick cooking spray
¾ cup (240 g) all natural raspberry or strawberry jam
2 tablespoons (24 g) chia seeds
1⅓ cups (160 g) whole wheat pastry flour
¼ cup (40 g) hulled hemp seeds
¼ teaspoon fine sea salt
½ cup plus 1½ teaspoons (136 g) tahini
¼ cup plus 2 tablespoons (120 g) pure maple syrup
1 teaspoon pure vanilla extract
Plain or vanilla vegan milk, as needed
Preheat oven to 350°F (180°C, or gas mark 4). Lightly coat an 8-inch (20 cm) square baking pan with cooking spray.
In a small bowl, combine the jam with the chia seeds and set aside. The seeds will expand a little and thicken up the jam while you prepare the crust.
Combine the flour, hemp seeds, and salt in a large bowl. Add the tahini, maple syrup, and vanilla on top, using a pastry cutter to stir them in. The dough must be moist without being too wet. It should stick together easily when pinched. If it is too dry, add 1 tablespoon (15 ml) of milk at a time until it is sufficiently moist.
Set aside a packed ½ cup (120 g) of the resulting dough. Sprinkle the dough evenly in the prepared pan. Press it down evenly all over the bottom of the pan.
Cover with the jam mixture, spreading it all over with an angled spatula. Crumble the reserved dough on top, pressing slightly on top of the jam.
Bake for 24 minutes or until the crumbs on top are golden brown.
Place on a wire rack and cool for at least 30 minutes before slicing and serving.
Store leftovers in an airtight container at room temperature for up to 2 days.