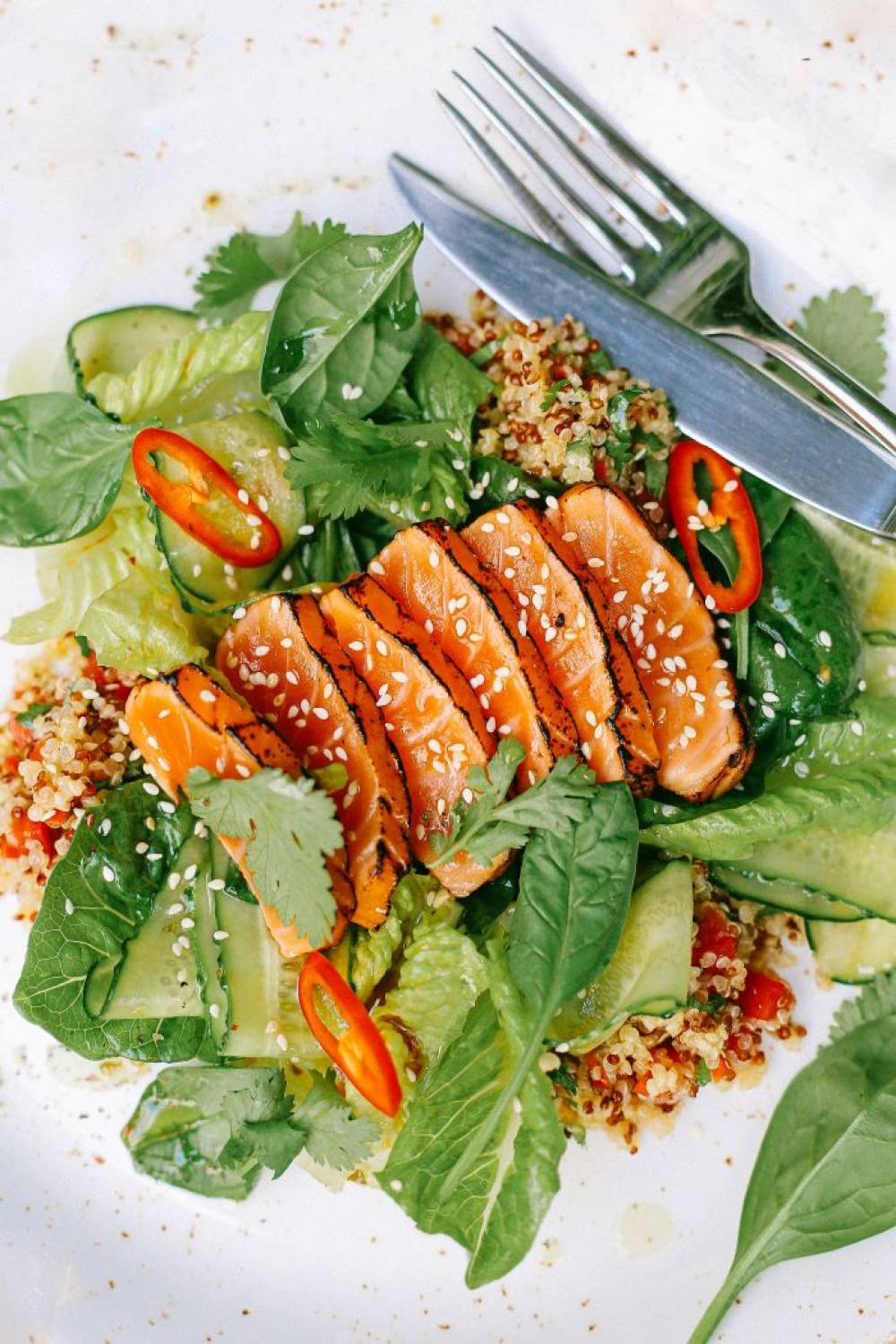 BREAKFAST
VEGETABLE OMELET
2 large eggs
½ small onion ( 35g)
½ small tomato ( 45g)
Spinach ½ cup fresh ( chopped)
Green chilies, fresh coriander & seasonings ( optional )
DIRECTIONS
1) In a bowl, whisk 2 large eggs. Add chopped onion, tomato, and spinach, Season with salt, black pepper, and red pepper flakes.
2) Heat a non-stick frying pan, and pour the mixture over it. Flip and cook the other side if desired. Do not use oil!
SNACK 1
PEAR WITH PEANUT BUTTER
½ tbsp. Peanut Butter smooth ( 8g)
1 small pear or apple ( 148g)
DIRECTIONS
Slice pear or apple. Spread peanut butter over it. Sprinkle with cinnamon powder if desired.
LUNCH
CHICKEN STIR FRY WITH RICE
4 oz. ( 113g) raw boneless, skinless chicken breast ( cut into pieces)
1 tbsp. soy sauce & ½ tbsp. oyster sauce
2 teaspoons cornstarch ( 5. 3g)
½ tsp toasted sesame oil ( 2. 25g)
½ cup broccoli chopped ( 44g)
1 small carrot ( 50g)
1 small red bell pepper ( 74g)
½ small onion ( 35g)
1 clove garlic (minced)
½ tbsp. ginger chopped
¼ cup uncooked rice ( 45g) or 1 cup of cooked rice
DIRECTIONS
1) Prepare sauce: In a medium-size bowl, whisk together corn starch and 4 teaspoons cold water. Add soy sauce & oyster sauce and mix.
2) In a wok on high flame, cook chicken and season with salt and pepper. Add sesame oil, then minced garlic and ginger. Fry for 1 minute. Add chopped broccoli, carrot, red bell pepper, and onion. Stir on high flame for 2 minutes. Add sauce, cook for 2 minutes. Serve with boiled rice.
SNACK 2
SALTED POPCORN
2 cup of air-popped popcorn
DIRECTIONS
Use a non-stick pan with a tight-fitting lid. Alternatively, you can place the kernels in a microwave-safe bowl and place a plate over it. Do not use oil or butter!
DINER
GRILLED SALMON WITH SALAD
3 oz. ( 85g) grilled salmon ( or 4 oz. raw salmon)
Fresh romaine lettuce
1 cucumber ( 300g)
1 small tomato ( 91g)
3 medium strawberries ( 36g)
3 almonds
1 teaspoon olive oil ( 2. 5g)
Salt, black pepper, lime, dried rosemary, and other seasonings to taste
DIRECTIONS
Season 4 oz. of raw salmon with salt, pepper, lime juice, dried rosemary, and other seasonings of your choice. Grill in a non-stick pan. Cover and cook if needed. For the salad, dice cucumber, tomato, strawberries, lettuce, almonds & place into a medium-sized bowl. Drizzle olive oil over it and season as desired.
SNACK 3
YOGURT
1/2 cup of low-fat yogurt
DIRECTIONS
Measure 1/2 cup of low-fat yogurt.