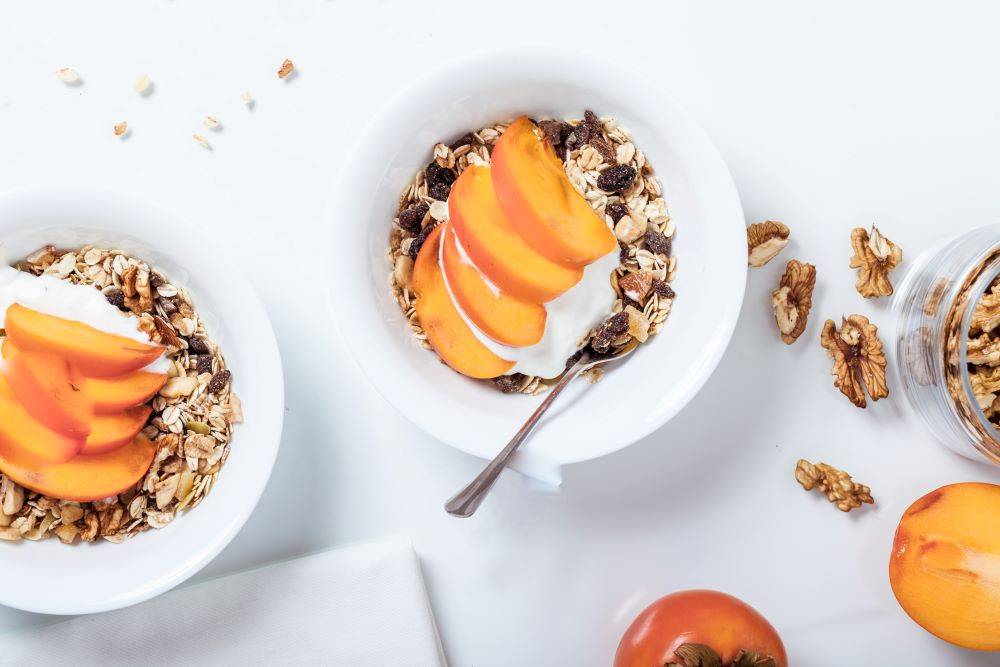 BREAKFAST
OATMEAL WITH HONEY & FRUITS
½ cup Quaker oats ( rolled oats) ( 40g)
½ cup of low fat mi l k ( 122g)
½ cup water
1 teaspoon honey
½ small apple ( 75g)
1/2 small Banana ( 50g)
Pinch of cinnamon powder and salt
¼ tsp. vanilla extract
DIRECTIONS
In a small pot, place oats, milk, and water, a pinch of salt & cinnamon powder, vanilla extract, and let cook. Once the oats are cooked, transfer to a bowl and drizzle honey over it. Lastly, top with chopped apple and banana. Sprinkle cinnamon powder over it, if desired.
SNACK 1
STRAWBERRY YOGURT WITH NUTS
½ cup low-fat yogurt
3 medium strawberries (36g)
6 almonds (dry-roasted)
DIRECTIONS
In a bowl, whisk 1/2 cup of low-fat yogurt. Top with strawberries and dry roasted almonds. Or blend ingredients to make a smoothie or popsicle.
LUNCH
GRILLED CHICKEN WRAP
1 medium whole-wheat or regular tortilla (30g)
4 oz. raw boneless, skinless chicken breast (cut into pieces) (113g)
½ tbsp. mayonnaise (7g) + 1- 2 tsp chili sauce
Romaine lettuce (as needed)
½ small onion (35g)
½ small tomato (45g)
DIRECTIONS
1) Marinate chicken with 1/8 teaspoon of salt, black pepper, dried oregano, dried basil, red pepper flakes, and 1 teaspoon of lemon juice. Grill without oil.
2) Mix mayonnaise with chili sauce and spread over the tortilla. Place chicken on one side along with sliced onion, tomato, and lettuce. Roll the wrap firmly and grill on a pan. Serve hot.
SNACK 2
JUICE & YOUR CHOICE
½ cup freshly squeezed orange juice or
½ cup of canned/bottled apple juice.
and any 200 calories snack of your choice
DIRECTIONS
You can either choose orange juice or apple juice. You may also choose any 200 calories snack of your choice. Make sure to read the nutrition label correctly. If it has up to 200 calories PER SERVING, you must not consume more than one serving.
DINNER
SALAD WITH SLICED EGG
2 large eggs (boiled)
Fresh romaine lettuce
1 cucumber (300g)
1 small tomato (91g)
1 stalk of celery (optional )
½ small (35g) onion
Fresh parsley, mint, chives chopped
1/2 tbsp. (8g) Creamy Caeser salad
dressing (American garden)
Seasonings to taste
DIRECTIONS
1) Boil eggs, let cool then slice.
2) In a bowl, place freshly chopped lettuce, cucumber, tomato, celery & onion. You may add fresh parsley, mint, or chives if desired. Toss with salad dressing till combined. Lastly, top with sliced eggs and serve immediately.