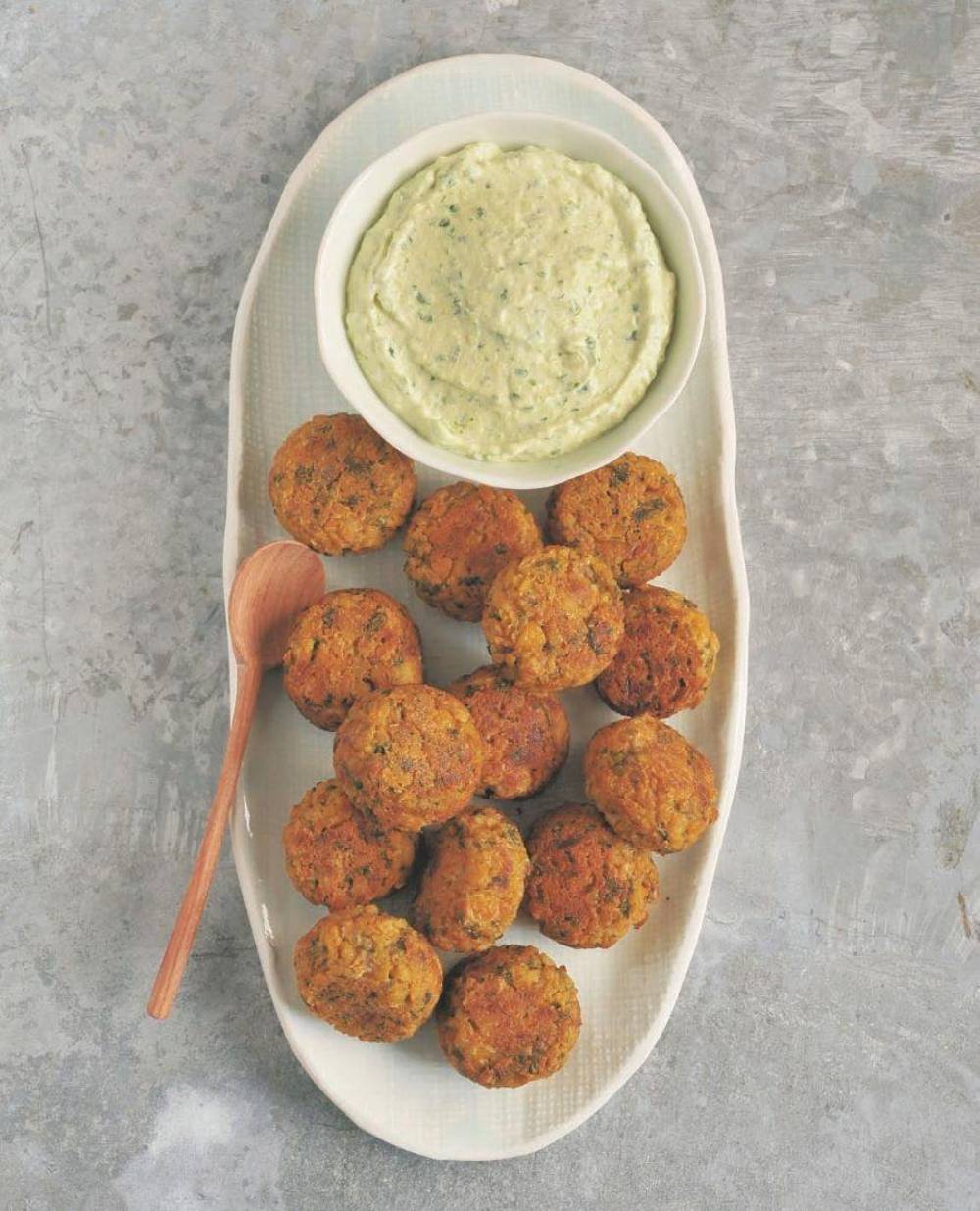 ►Makes 32 Falafels
Non-stick cooking spray
3 cups (492 g) cooked chickpeas
¼ cup (60 ml) fresh lemon juice 3 cloves garlic, minced
⅓ cup (20 g) packed fresh parsley
⅓ cup (5 g) packed fresh cilantro
⅓ cup (53 g) minced red onion 2 tablespoons (32 g) tahini
1 tablespoon (15 ml) toasted sesame oil 1½ teaspoons ground cumin
1½ teaspoons ground coriander
¼ teaspoon cayenne pepper Scant ½ teaspoon fine sea salt, or to taste
3 tablespoons (23 g) whole wheat
pastry flour or all-purpose flour
½ teaspoon baking soda
2 tablespoons (30 ml) olive oil
Preheat the oven to 400°F (200°C, or gas mark 6). Lightly coat 32 cups out of two 24-cup mini muffin tins with cooking spray.
Place the chickpeas, lemon juice, garlic, parsley, and cilantro in a food processor.
Consider doing this in a couple of batches, depending on the size of your food processor. Pulse a few times, stopping to scrape the sides with a rubber spatula: You're looking for a somewhat smooth texture but not exactly a paste. The beans should be broken down, but it's fine if a few pieces remain as long as the mixture is cohesive.
Remove from the food processor and place in a large bowl. Add the onion, tahini, sesame oil, cumin, coriander, cayenne pepper, and salt. Stir to combine. Add the flour and baking soda on top and stir until thoroughly combined.
Gather 1 packed tablespoon (18 g) of mixture per falafel, gently shape into a ball and place in the mini muffin tin. Repeat with remaining mixture. Lightly brush the tops with olive oil.
Bake for 15 minutes, carefully flip each falafel, and lightly brush with oil. Bake for another 8 minutes or until golden brown.
Remove from the oven and let stand 5 minutes before serving.