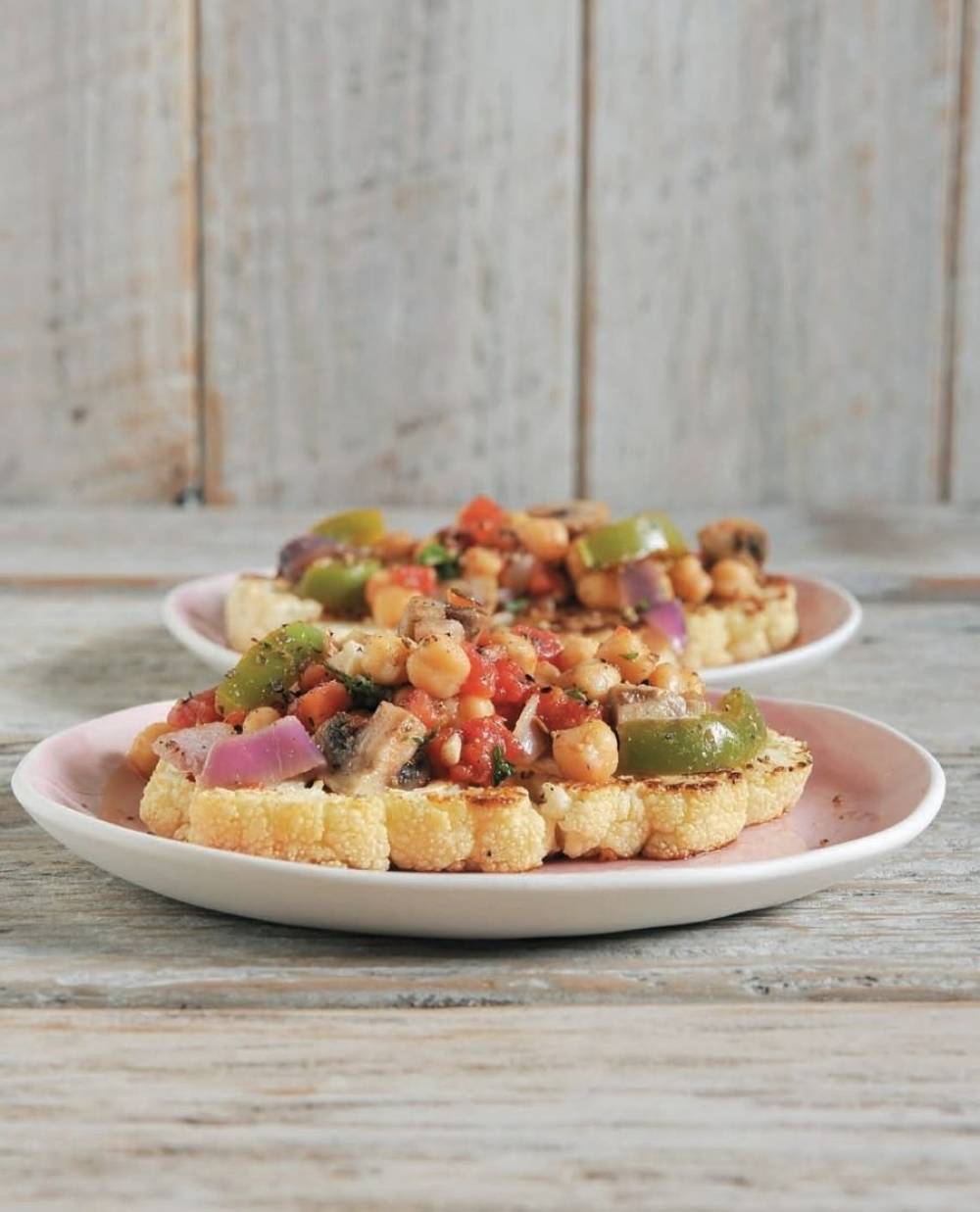 ►Makes 4 Servings
FOR THE CACCIATORE CHICKPEAS:
1 tablespoon (15 ml) olive oil
½ of a medium onion, cut into ½-inch (1.3 cm) slices
½ of a bell pepper (any colour), cut into ½-inch (1.3 cm) slices
4 ounces (113 g) cremini mushrooms, cut into quarters
4 cloves garlic
1 teaspoon dried thyme 1 teaspoon dried basil
½ teaspoon dried rosemary
1½ cups (246 g) cooked chickpeas (See Recipe Note.)
1 can (14.5 ounces, or 411 g) diced
tomatoes, undrained
1 teaspoon fine sea salt
½ teaspoon ground black pepper 2 tablespoons (8 g) minced fresh parsley
Minced fresh basil, for garnish
FOR THE CAULIFLOWER STEAKS:
1 large head of cauliflower
1 tablespoon (15 ml) olive oil Salt and pepper
To make the chickpeas: Preheat the oven to 400°F (200°C, or gas mark 6). In a 9 x 13 inch (23 x 33 cm) glass baking dish, combine the oil, onion, bell pepper, mushrooms, garlic, thyme, basil, and rosemary. Roast in the oven for 30 minutes until the peppers and onions are slightly brown on the edges. Remove the garlic and mince. Add the garlic back to the mixture and stir in the chickpeas, diced tomatoes, salt, and pepper. Bake for 15 minutes. Stir in the parsley.
To make the cauliflower steaks: Cut the cauliflower as evenly as possible into four (1 inch, or 2.5 cm) slices, from the crown to the stem. Reserve the remaining florets for another purpose.
Line a large baking sheet with foil. Heat the oil in a large skillet over medium to medium-high heat. Cook the cauliflower steaks (in batches) for 4 to 6 minutes until browned. Gently turn the cauliflower over and cook the second side for 3 to 5 minutes until browned. Transfer to the foil-lined sheet. Repeat with the remaining cauliflower. Put in the oven and roast for 8 minutes or to the desired tenderness. Divide the chickpea mixture evenly over the cauliflower steaks and garnish with basil.
Recipe Notes
We use canned chickpeas as much as the next bean-loving fiends, but in this case, homemade are the way to go. With such simple ingredients, it really makes a difference. Cook a big batch of beans and freeze them in portions so you can make easy dishes like this in a flash.