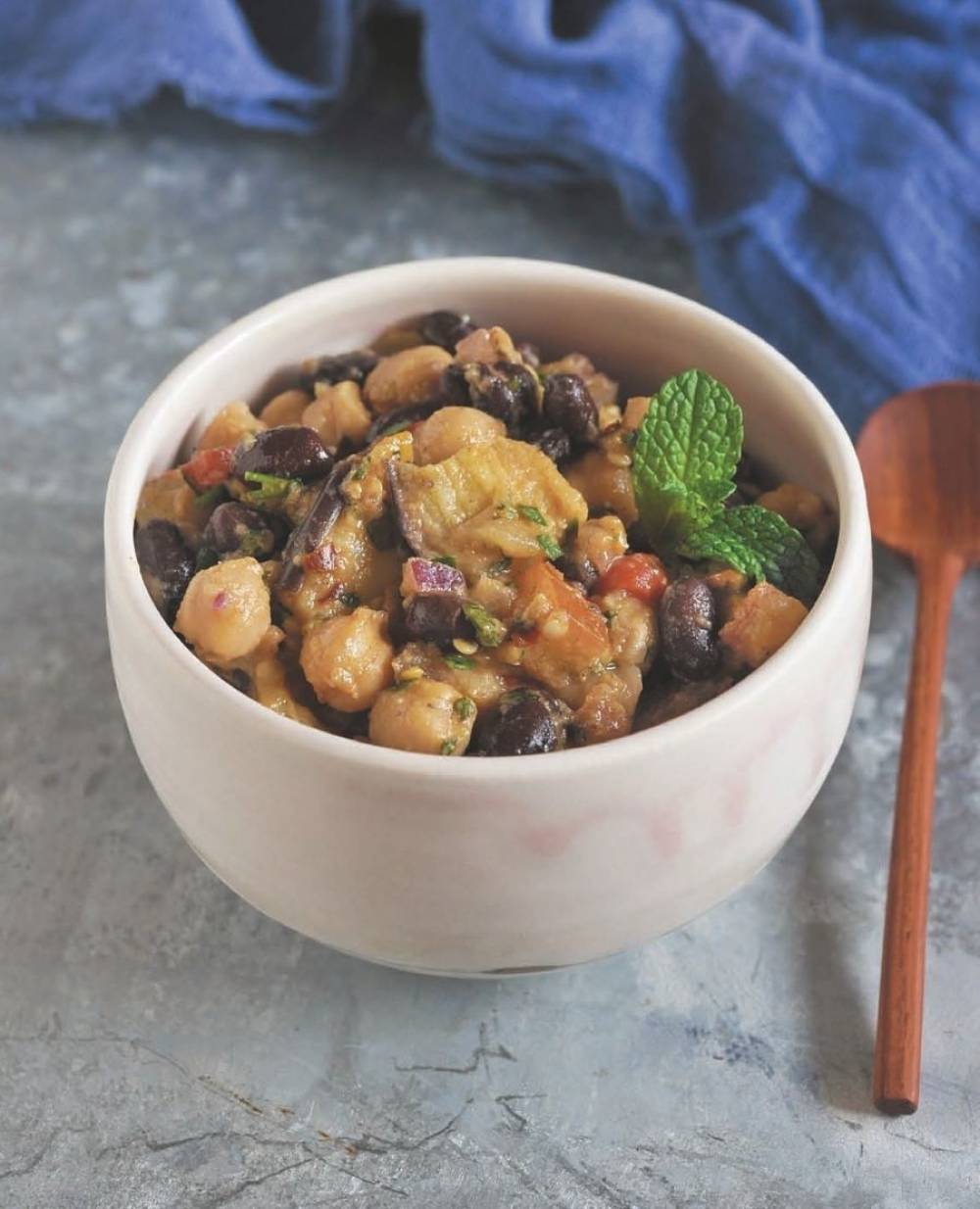 ►Makes 6 Servings
For tHe Marinated Eggplant: 1 tablespoon (16 g) tahini
1 tablespoon (15 ml) olive oil
1 tablespoon (15 ml) fresh lemon juice 1 tablespoon (15 ml) white balsamic vinegar
1½ teaspoons nutritional yeast
½ teaspoon onion powder
½ teaspoon harissa paste, or to taste 1 clove garlic, grated or pressed
½ teaspoon ground cumin Salt, to taste
1 small eggplant (a little over
10 ounces, or 280 g), trimmed, cut in two width wise and then length- wise in ½-inch (1.3 cm) slices
For the Balela:
1 tablespoon (15 ml) extra-virgin olive oil 2 tablespoons (30 ml) fresh lemon juice
2 tablespoons (30 ml) white balsamic vinegar
⅓ cup (53 g) minced red onion
2 cloves garlic, grated or pressed 1½ cups (246 g) cooked chickpeas 1½ cups (258 g) cooked black beans
½ of a roasted red or yellow bell pepper, chopped
1 small tomato, seeded if desired, minced
3 tablespoons (18 g) minced fresh mint leaves
3 tablespoons (11 g) minced fresh parsley
Salt and pepper
Red pepper flakes, to taste
To make the marinated eggplant: Combine the tahini, oil, lemon juice, vinegar, nutritional yeast, onion powder, harissa paste, garlic, cumin, and salt in a shallow pan. Brush a generous amount of this mixture on both sides and edges of each piece of eggplant and place in the shallow pan. Place the pan in the refrigerator for 1 hour to marinate.
Preheat the oven to 450°F (230°C, or gas mark 8). Place the slices of eggplant on a large, rimmed baking sheet.
Bake for 8 minutes, flip the slices, and bake for another 6 to 8 minutes until tender and golden brown. Remove from the oven and set aside. Once cool enough to handle, cut the eggplant slices into ⅓-inch (8 mm) cubes.
To make the balela: In a large bowl, combine the oil, lemon juice, vinegar, onion, and garlic. Add the chick-peas, black beans, roasted bell pepper, tomato, mint, parsley, cubed eggplant, salt, ground pepper, and red pepper flakes to taste. Chill overnight and serve cold or brought back to room temperature. Leftovers can be stored in an airtight container for up to 4 days, and they get even better with each passing day.