The best oatmeal cookies that contain a lot of flavor but no sugar.
Prep time: 10 minutes
Cook time: 10 minutes
Servings: 24 cookies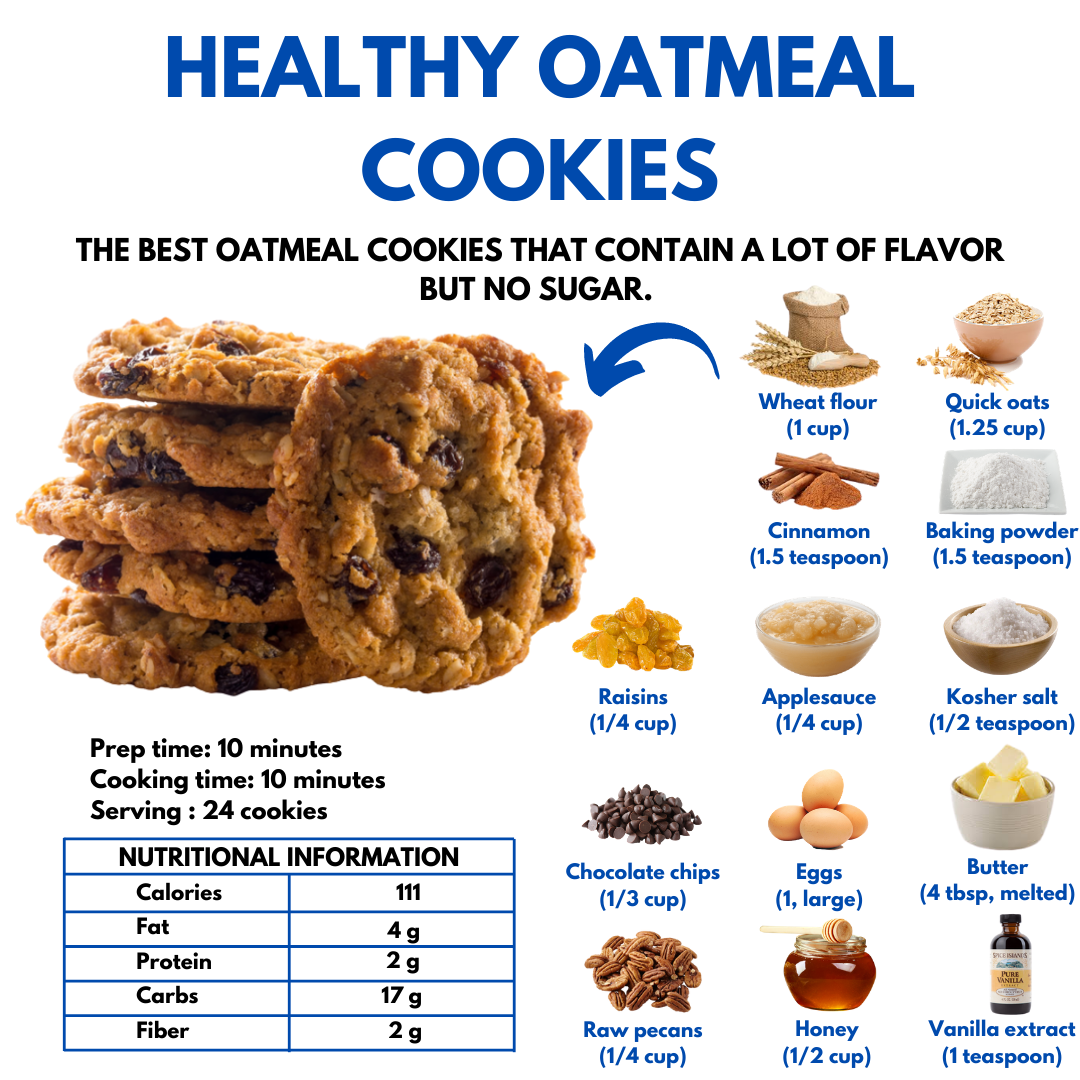 INGREDIENTS:
• Wheat flour (1 cup)
• Quick oats (1,25 cup)
• Cinnamon (1,5 teaspoon)
• Baking powder (1,5 teaspoon)
• Raisins (1/4 cup)
• Applesauce (1/4 cup)
• Kosher salt (1/2 teaspoon)
• Chocolate chips (1/3 cup)
• Eggs (1 large)
• Butter (4 tbsp, melted)
• Raw pecans (1/4 cup)
• Honey (1/2 cup)
• Vanilla extract (1 teaspoon)
METHOD:
Step 1: Mix the quick oats, whole wheat flour, cinnamon, salt and baking powder in a big bowl.
Step 2: In another bowl whisk the applesauce, egg, butter, honey and vanilla until blended. Combine this mixture with the dry ingredients and stir carefully up to the dough is just sticky and wet. Mix in the raisins, walnuts and chocolate chips. Rest for minimum 30 minutes, max 3 days in the refrigerator.
Step 3: Preheat your oven to 180°C (350°F) when it's time to bake. With a tablespoon arrange the rested dough on a large baking tray with parchment. Pay attention to leaving a small space around each cookie, Gently flatten the cookies.
Step 4: Bake for 9-10 minutes until they are firm and golden around the edges. Allow them to rest on the cookie sheet for another 2 minutes. Then to cool completely, transfer them to a rack.
Nutritional information
Calories
111
Fat
4 g
Protein
2 g
Carbs
17 g
Fiber
2 g