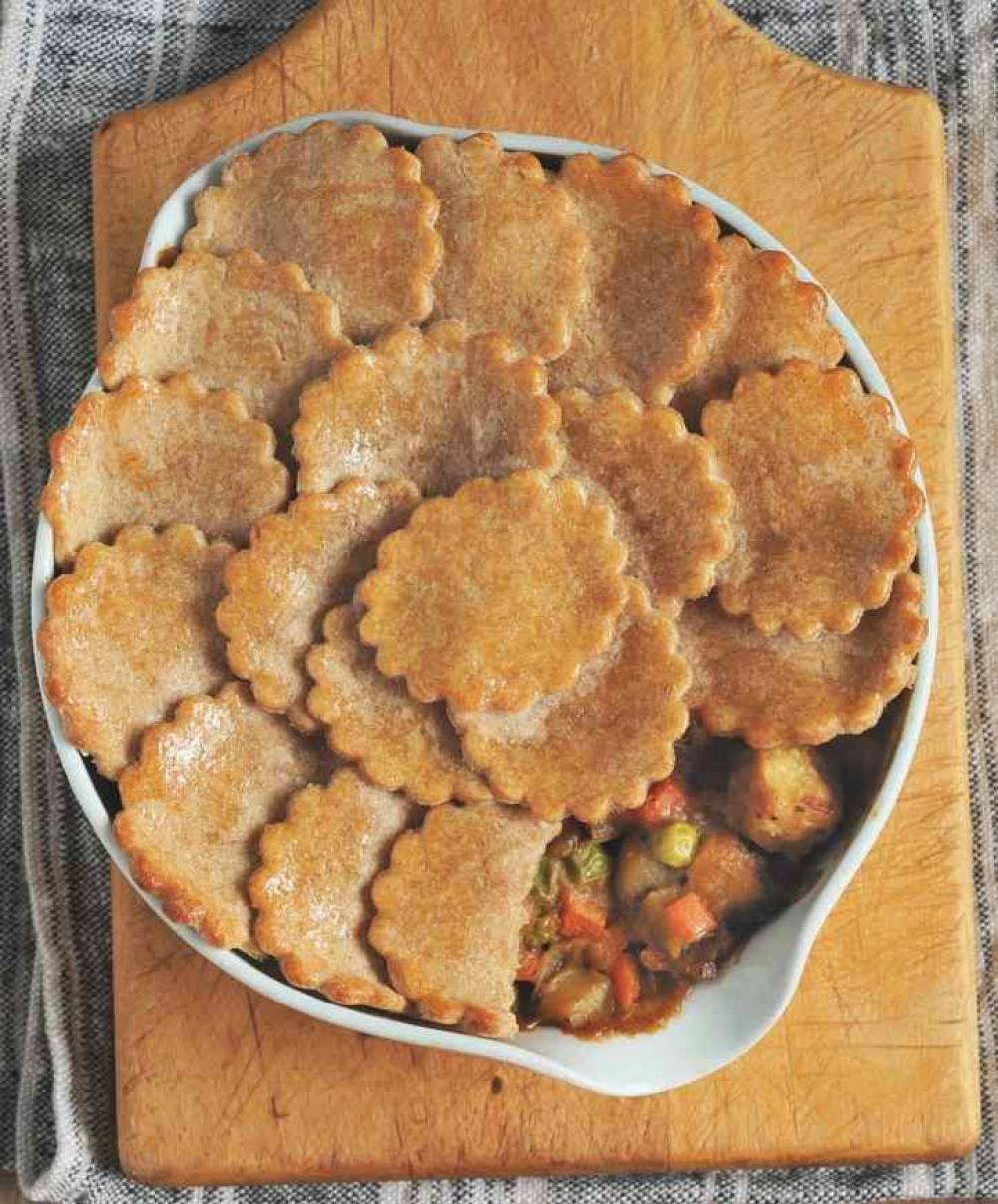 ► Makes 1 8 Inch (20cm) Potpie
¼ cup plus 2 tablespoons (47 g) all-purpose flour,
divided 12 ounces (340 g) Quit-the-Cluck Seitan,
cut into 1-inch (2.5 cm) pieces 3 tablespoons (45 ml) neutralflavoured oil,
divided 4 ounces (113 g) cremini mushrooms,
finely minced 1 cup (160 g)
diced onion 1 cup (110 g)
diced yellow or red potatoes ¾ cup (98 g)
diced carrot ½ cup (55 g)
diced parsnip ¼ cup (30 g)
diced celery
1 teaspoon dried thyme
1 teaspoon dried poultry seasoning
3 cloves garlic,
minced 2 tablespoons (15 g) nutritional yeast
1½ cups (355 ml) vegetable broth
⅓ cup (43 g) frozen peas (run under hot water, drained)
1 tablespoon (15 ml) tamari Salt and pepper
Single or double non-sweet pie crust recipe, or store-bought
Preheat the oven to 375°F (190°C, or gas mark 5). Combine ¼ cup (31 g) of flour and a pinch of salt and pepper in a shallow dish. Add the seitan, tossing to coat. Heat 2 tablespoons (30 ml) of oil in a large skillet over medium-high heat. Add the seitan and cook for 5 minutes, stirring occasionally, until browned.
Remove from the skillet and set aside. Add the remaining table-spoon (15 ml) oil and the mushrooms through the celery and ½ teaspoon salt to the same skillet. Reduce the heat to medium and cook for 8 to 10 minutes, stirring occasionally. The vegetables will soften and lose their brightness. Add the thyme through the nutritional yeast and the remaining 2 tablespoons (16 g) flour. Cook for 3 to 4 minutes, stirring, to cook the flour. Add the reserved seitan, broth, peas, and tamari, scraping any bits from the bottom. Stir to combine, and cook for 5 minutes, until thickened. Season to taste with salt and pepper.
If using a double crust, line an 8-inch (20 cm) pie plate with the crust. Spoon the filling into the crust. (Alternatively, if using one crust, pour the filling into the pie plate).
Crimp and seal the dough along the rim of the pie plate. Make a few cuts to let the steam escape. (Alternatively, use a cutter to cut out pieces of the dough and decoratively cover the filling, letting each piece overlap.) Place a baking sheet in the oven in case the potpie cooks over and put the potpie on top of it. Bake for 35 to 40 minutes until the filling is bubbly