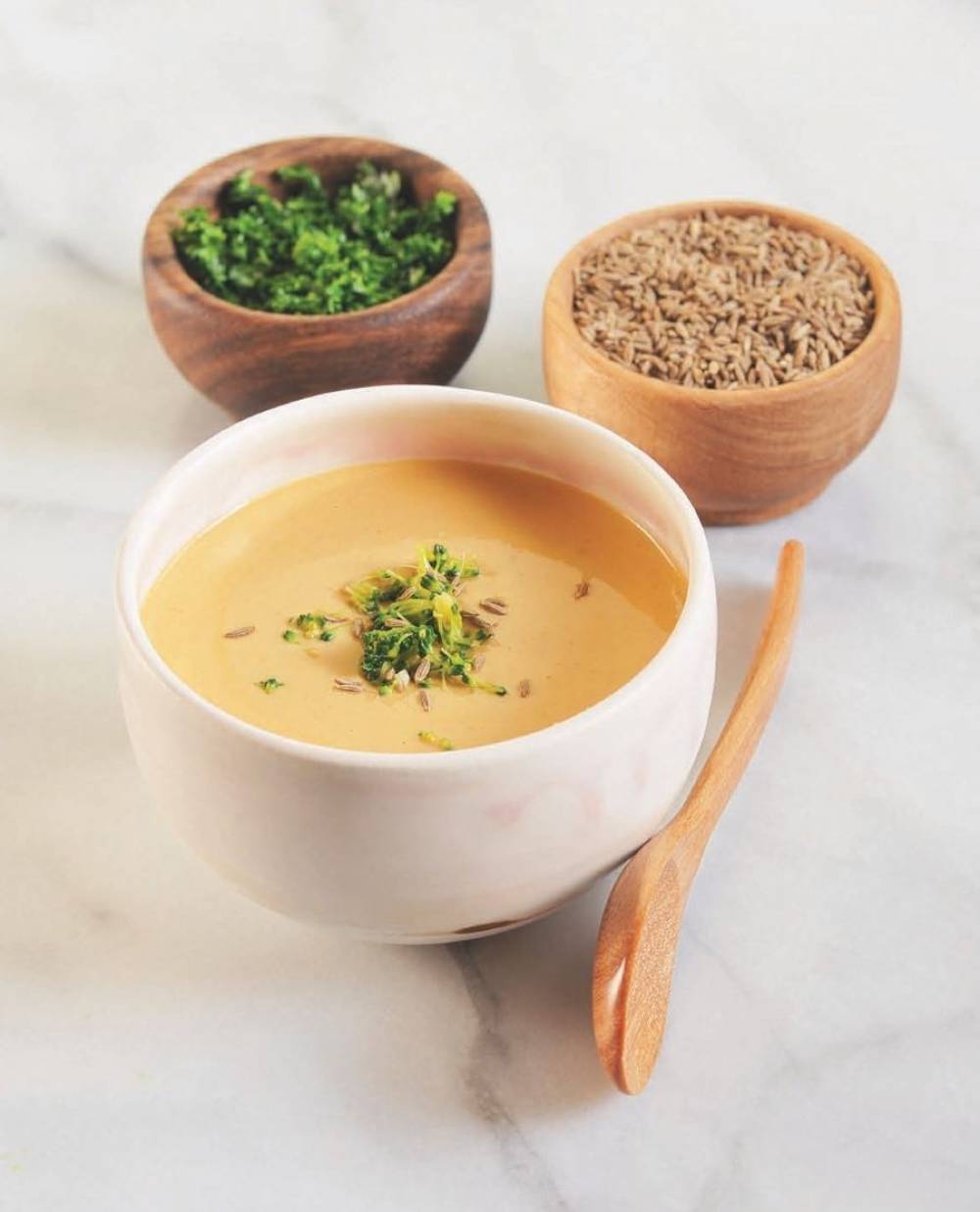 ►Makes 4 Servings
1 tablespoon (15 ml) toasted sesame oil
¼ cup (40 g) chopped shallot
2 teaspoons grated or pressed garlic 1 teaspoon ground cumin
1 teaspoon sambal oelek or harissa paste, or to taste
½ teaspoon smoked paprika
2 cups (328 g) cooked chickpeas
⅓ cup (80 ml) fresh lemon juice
3 cups (705 ml) vegetable broth, more if needed
½ cup (128 g) tahini Salt and white pepper
¼ cup (4 g) chopped fresh cilantro or (15 g) parsley (or a combination of the two), for garnish
Toasted cumin seeds, for garnish, optional
Lemon zest, for garnish, optional
Heat the oil in a large pot. Add the shallot, garlic, cumin, sambal oelek or harissa paste, paprika, and chickpeas. Cook on medium heat, stirring often, until the shallot is tender, and the preparation is fragrant, about 4 minutes. Add the lemon juice, stirring to combine.
Add the broth and bring to a boil. Lower the heat, cover with a lid, and simmer for 10 minutes. Add the tahini, stirring to combine. Note that the tahini might look curdled when you add it, but it will be okay after simmering and blending. Cover with the lid and simmer for another 5 minutes.
Use a handheld blender and blend the mixture until smooth. Be careful: The liquid will be hot, so watch for spatters! You can also use a regular blender to purée the soup, just be careful while transferring the hot liquid. If you find the bisque a little thick for your taste once blended, add extra broth as needed. Adjust the seasonings to taste and serve garnished with cilantro, parsley, cumin seeds, and lemon zest.
Leftovers can be slowly reheated by simmering in a small saucepan for about 6 minutes until heated through. Stir occasionally while reheating and be careful not to scorch what is a rather thick soup.