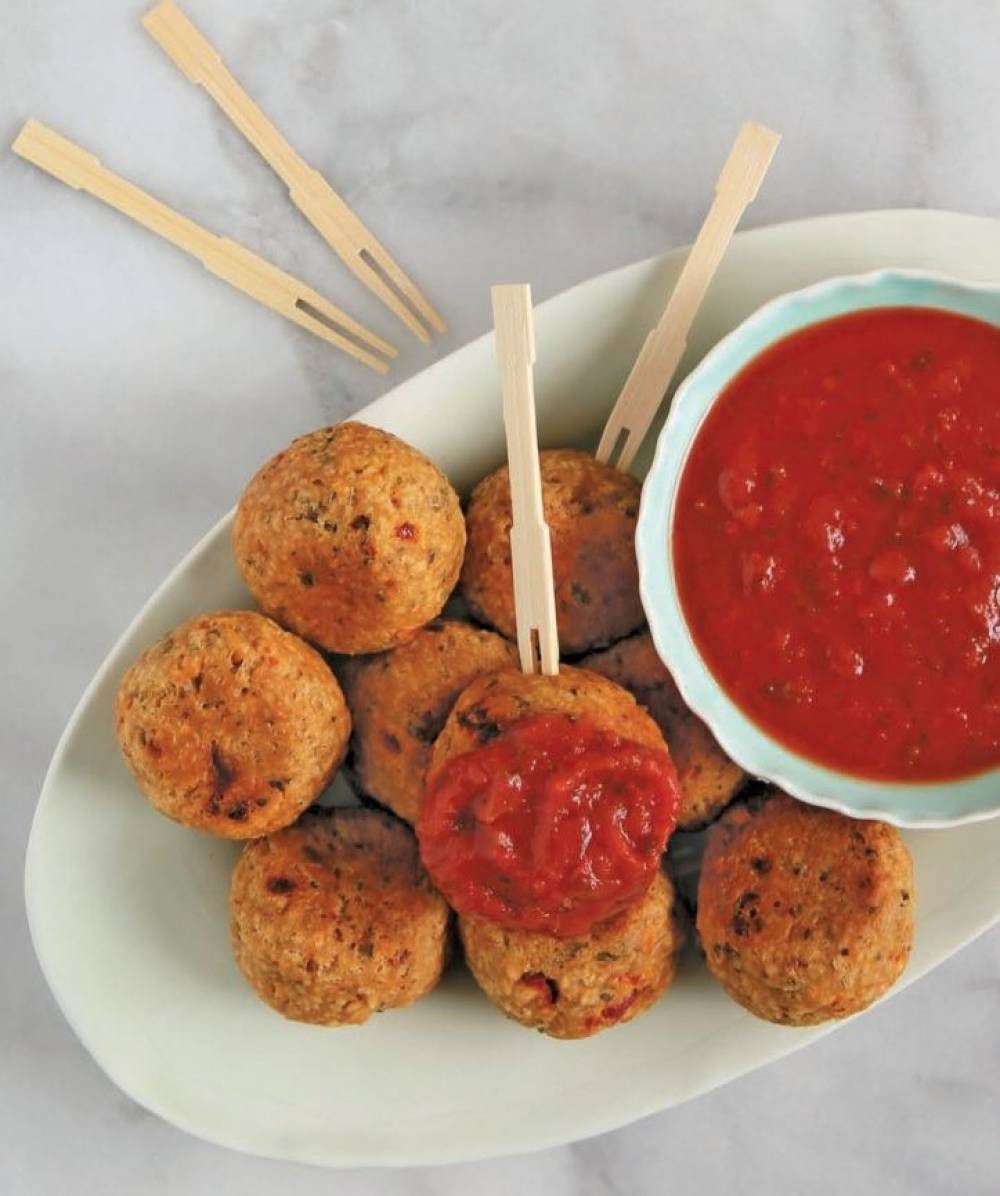 ► Makes 16 to 18 Servings
8 ounces (227 g) blended soft silken tofu 2 tablespoons (30 ml) olive oil
2 tablespoons (30 ml) fresh lemon juice
2½ tablespoons (10 g) sun-dried tomatoes (drained and rinsed if packed in oil), minced
1 tablespoon (9 g) capers, drained and minced
¼ cup (30 g) nutritional yeast
1½ teaspoons onion powder
2 cloves garlic, pressed
Scant ½ teaspoon fine salt
1 teaspoon dried basil
½ teaspoon dried thyme
½ teaspoon dried oregano
½ cup (72 g) vital wheat gluten
1 cup (80 g) panko crumbs
Non-stick cooking spray or oil spray
Favourite vegan marinara sauce, for serving
Preheat the oven to 350°F (180°C, or gas mark 4). Line a baking sheet with parchment paper or a silicone baking mat. In a large bowl, stir the tofu, oil, lemon juice, sun-dried tomatoes, capers, nutritional yeast, onion powder, garlic, salt, basil, thyme, and oregano until combined.
Add the vital wheat gluten and panko crumbs on top and stir again until thoroughly combined. Scoop 2 packed tablespoons (28 g) per ball. Shape into a ball and place on the prepared baking sheet. Repeat until you run out of the mixture: You should get 16 to 18 balls in all.
Lightly coat the top of the balls with cooking spray. Bake for 14 minutes, flip, lightly coat the other side with cooking spray, and bake for another 8 minutes or until golden brown.
Remove from the oven and let stand a few minutes before serving with your favourite marinara.