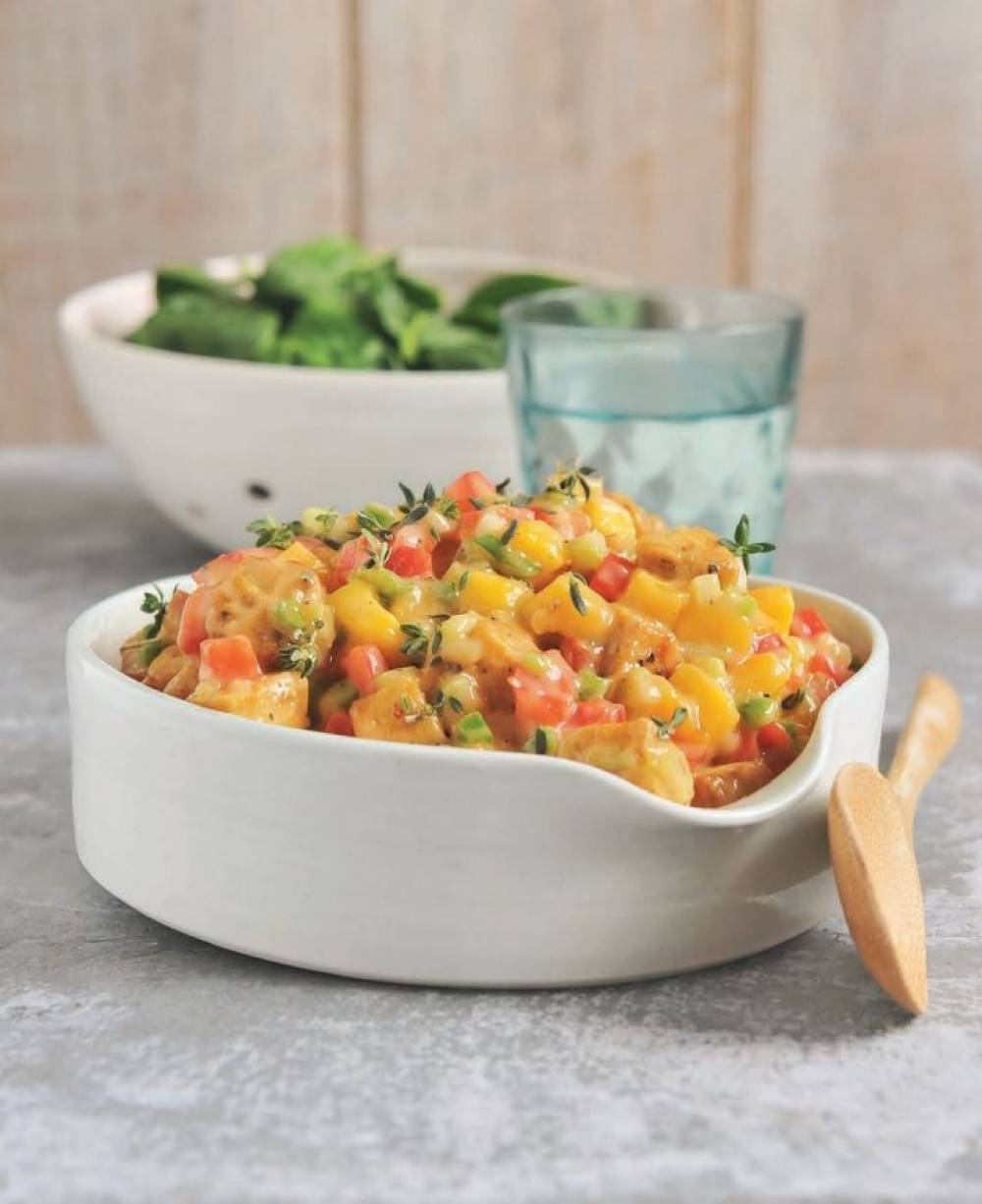 ► Makes 6 Servings
8 ounces (227 g) tempeh, simmered
½ cup (80 g) chopped red onion
1 scotch bonnet or habanero pepper, stem and seeds removed
3 tablespoons (45 ml) olive oil, divided
2 tablespoons (30 ml) vegetable broth
1 tablespoon (15 ml) fresh lime juice
1 tablespoon (20 g) pure maple syrup
½ inch (1.3 cm) piece fresh ginger root, peeled
3 cloves garlic
¼ teaspoon fine sea salt
Pinch of ground black pepper Nonstick cooking spray
¼ cup plus 2 tablespoons (68 g)
chopped fresh mango
¼ cup (36 g) chopped red bell pepper
3 tablespoons (18 g) chopped scallion
2 tablespoons (15 g) minced celery
1 tablespoon (9 g) minced jalapeño, or to taste
2 teaspoons minced fresh thyme
⅓ cup (75 g) vegan mayonnaise, more if needed
1 teaspoon red wine vinegar
Cut the tempeh into ½-inch (1.3 cm) cubes.
Combine the onion, scotch bonnet, 1 tablespoon (15 ml) olive oil, and the broth through the black pepper in a small blender. Blend until smooth. Pour the marinade into a shallow container. Add the tempeh cubes and coat them with the marinade. Stir the cubes occasionally. Cover, and marinate in the refrigerator for 12 hours, or up to 2 days.
Preheat the oven to 400°F (200°C, or gas mark 6). Spray a 9 x 13 inch (22 x 33 cm) glass baking dish with cooking spray. Pour the tempeh and marinade into the baking dish. Bake for 15 minutes, and then remove from the oven. Stir in the remaining 2 tablespoons (30 ml) olive oil and return the tempeh to the oven to bake for 30 minutes longer or until slightly crisp. Let the tempeh cool completely before continuing.
Combine the tempeh and remaining ingredients in a mediumsize bowl. Stir well, cover, and refrigerate for at least 30 minutes, or up to 2 days before serving. When serving, stir in extra mayonnaise, if needed, and taste and adjust the seasonings.