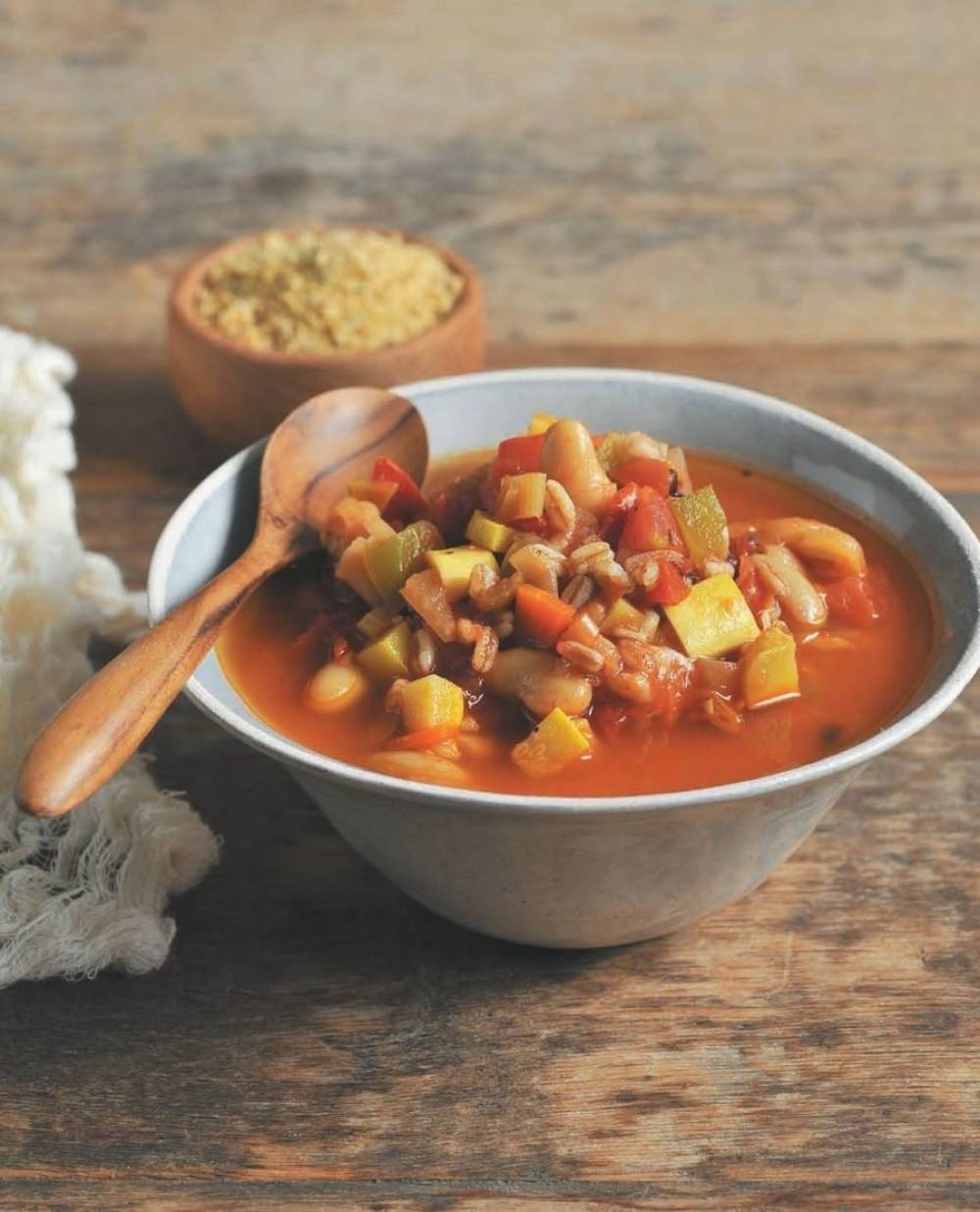 ►Makes 8 to 10 Servings
1 tablespoon (15 ml) olive oil
½ cup (80 g) chopped red onion 4 cloves garlic, grated or pressed 1 leek, white and light green parts, trimmed and chopped (about 4 ounces, or 113 g)
2 carrots, peeled and minced (about 4 ounces, or 113 g)
2 ribs of celery, minced (about 2 ounces, or 57 g)
2 yellow squashes, trimmed and chopped (about 8 ounces, or 227 g) 1 green bell pepper, trimmed and chopped (about 8 ounces, or 227 g) 1 tablespoon (16 g) tomato paste
1 teaspoon dried oregano 1 teaspoon dried basil
½ teaspoon smoked paprika
⅛ to ¼ teaspoon cayenne pepper, or to taste
2 cans (each 15 ounces, or 425 g)
diced fire-roasted tomatoes
4 cups (940 ml) vegetable broth, more if needed
3 cups (532 g) cannellini beans, or other white beans
2 cups (330 g) cooked farro, or other whole grain or pasta
Salt, to taste
In a large pot, add the oil, onion, garlic, leek, carrots, celery, yellow squash, bell pepper, tomato paste, oregano, basil, paprika, and cayenne pepper. Cook on medium-high heat, stirring often, until the vegetables start to get tender, about 6 minutes.
Add the tomatoes and broth. Bring to a boil, lower the heat, cover with a lid, and simmer 15 minutes.
Add the beans and simmer another 10 minutes. Add the farro and simmer 5 more minutes to heat the farro.
Note that this is a thick minestrone. If there are leftovers (which taste even better, by the way), the soup will thicken more once chilled.
Add extra broth if you prefer a thinner soup and adjust seasoning if needed. Add Nut and Seed Sprinkles on each portion upon serving, if desired.
Store leftovers in an airtight container in the refrigerator for up to 5 days. The minestrone can also be frozen for up to 3 months.