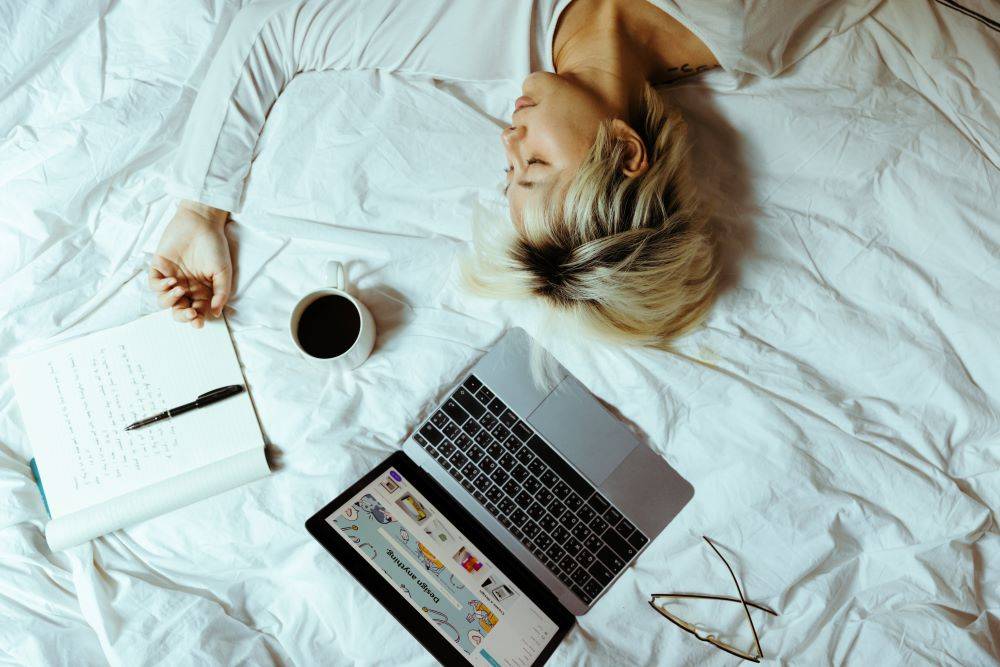 Establishing healthy habits around sleep is just as important as brushing and flossing your teeth twice a day. Sleep hygiene is a form of mind-body maintenance that sets you up for a restful night of sleep, meaning you feel less fatigued throughout the day. Sleep hygiene is science-backed practices during the day and before bedtime that help create the ideal conditions for healthy sleep, can mean the difference between a restful night and a restless one. Take a break to relax and bring a sense of ease to the body and mind, so you can feel more present and better able to enjoy whatever comes next. The most obvious signs of poor sleep hygiene are trouble falling asleep, disrupted sleep, and feeling fatigued and foggy throughout the day. Sleep deprivation slows our reflexes, sabotages decision-making and saps creativity. Getting good sleep is more accessible than we might imagine. For a start, we can start to practice healthy sleep hygiene habits that encourage better rest and to help you stay refreshed and aware during the day. The benefits of good sleep hygiene is that you are more focused, more productive, more present. Getting quality sleep doesn't just feel good. It's important for your health. It strengthens your immune system, helps you maintain a healthy weight, and lowers your risk for serious health conditions such as diabetes and heart disease. Good quality sleep can also improve your mood and even your memory. While you sleep, your brain forms new pathways to help you remember information. Whether you're learning new computer skills or studying a new subject at school, restful sleep supports better comprehension and problem-solving skills.
Tips for proper sleep hygiene
- avoid foods that can disrupt sleep. Citrus fruits, spicy food, fatty or fried food, and heavy meals are all tough on the digestive system and can trigger indigestion. If you're prone to heartburn, eating too close to bedtime can mean a night of misery. That's because it takes your stomach 3 to 4 hours to empty, so when you lie down right after a big meal, your digestive juices are still cranking. The result: burning chest pain and disrupted sleep.
- get regular exercise. A regular exercise routine can help contribute to improved sleep. Exercise stimulates your body to produce the stress hormone cortisol that keeps your brain alert. Which is perfectly normal and fine, unless you're trying to fall asleep. It may take a few weeks or even months before an exercise routine creates a substantial impact on the quality and quantity of your sleep.
- limit or avoid naps during the day. Plenty of famous people throughout history for example Salvador Dali, Albert Einstein, and Winston Churchill have been fans of the catnap. Although a short power nap of 20-25 minutes can lift your mood and leave you more refreshed, at least in the short term, it won't make up for poor quality sleep at night. However, if you are experiencing trouble falling or staying asleep, it can be best to avoid naps altogether. A late-afternoon snooze will decrease your homeostatic sleep drive, making it harder to drift off at bedtime.
- unplug an hour before bed. Screens and sleep are incompatible. Keeping screen use to a minimum, at least an hour before bed, is essential for sound sleep. Besides the light disrupting your body clock, games, videos, work emails, and social feeds all conspire to keep your mind active — and keep you awake way later than you should be. Make it a habit to sleep with your phone out of reach, if possible. Keeping it off your night table means it will be out of reach, especially when you can't sleep. If you feel that it's not possible to keep your phone in another room at night, consider putting it into "Do Not Disturb" or nighttime mode to block notifications from flashing or vibrating your phone during the night.
- keep your room cool and comfortable. The ideal room for sleeping is cool, quiet, and dark. Your mattress and pillows should feel really comfy, allowing your body to settle down and relax.
- dim the lights after dark. Getting enough natural light during the day is important for keeping your circadian rhythm, or body clock, on a healthy sleep-wake cycle. Bright light from lamps and electronics at night, however, can mess that cycle up, making it harder to fall asleep. That's because light, especially blue light from your laptop or cell phone, interferes with the release of melatonin, a hormone that tells our body that it's time to wind down.
- create a relaxing bedtime/pre-bedtime routine. Whether it's a warm bath, reading a book, listening to sleepcasts, nature sounds, sleep music, or meditating, any relaxing activity about an hour before bed helps creates a smoother transition between wakefulness and sleep.