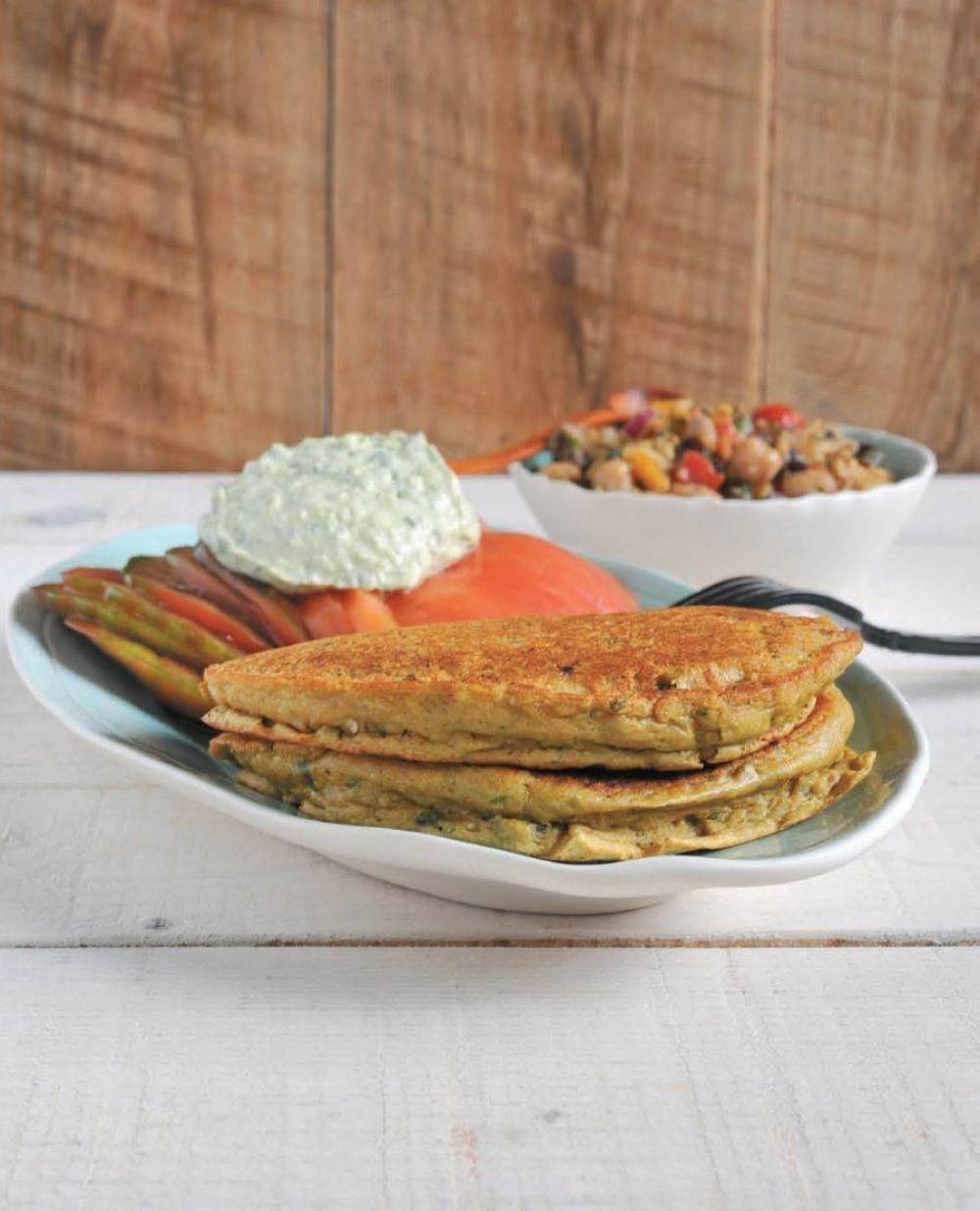 ►Makes 2 to 4 Servings
¾ cup (180 ml) unsweetened plain vegan milk, plus extra if needed
2 tablespoons (30 ml) fresh lemon
juice 1 cup (120 g) chickpea flour
½ teaspoon baking soda
½ teaspoon ground cumin
½ teaspoon ground coriander
½ teaspoon garam masala
⅛ to ¼ teaspoon cayenne pepper, or to taste
½ teaspoon fine sea salt, or to taste 2 tablespoons (30 ml) olive oil
2 tablespoons (15 g) nutritional yeast 1
tablespoon (16 g) tahini
¼ cup (40 g) minced red onion
¼ cup (4 g) fresh cilantro leaves (not packed)
2 cloves garlic, grated or pressed Non-
stick cooking spray or oil spray
Combine the milk and lemon juice in a medium bowl. Let stand for two minutes to let the milk curdle. This is your "buttermilk." In the meantime, whisk together the flour, baking soda, cumin, coriander, garam masala, cayenne pepper, and salt in a large bowl.
Add the olive oil, nutritional yeast, tahini, red onion, cilantro, and garlic to the buttermilk.
Stir the wet ingredients into the dry until well combined, but do not overmix. Let stand 10 minutes. The batter will be thick. If it is so thick it becomes unmanageable, add extra milk as needed to thin out, up to ¼ cup (60 ml).
Heat a large non-stick pan on medium-high heat. Lower the heat to medium. Lightly coat the pan with cooking spray or oil spray once hot, away from the heat. Add ¼ of the batter (about 3.5 ounces, or 100 g), spreading it into a circle of slightly over 5 inches (13 cm). Let cook for approximately 4 minutes until the center bubbles and looks not too dry but not too moist either. Carefully lift the edges of the pudla to make sure it is light golden brown, which is another sign it is ready to flip.
Carefully flip with a spatula and let cook for another 4 minutes or until golden brown on that side too.
Lightly coat the pan again each time before cooking the rest of the batter in three batches. Serve immediately.