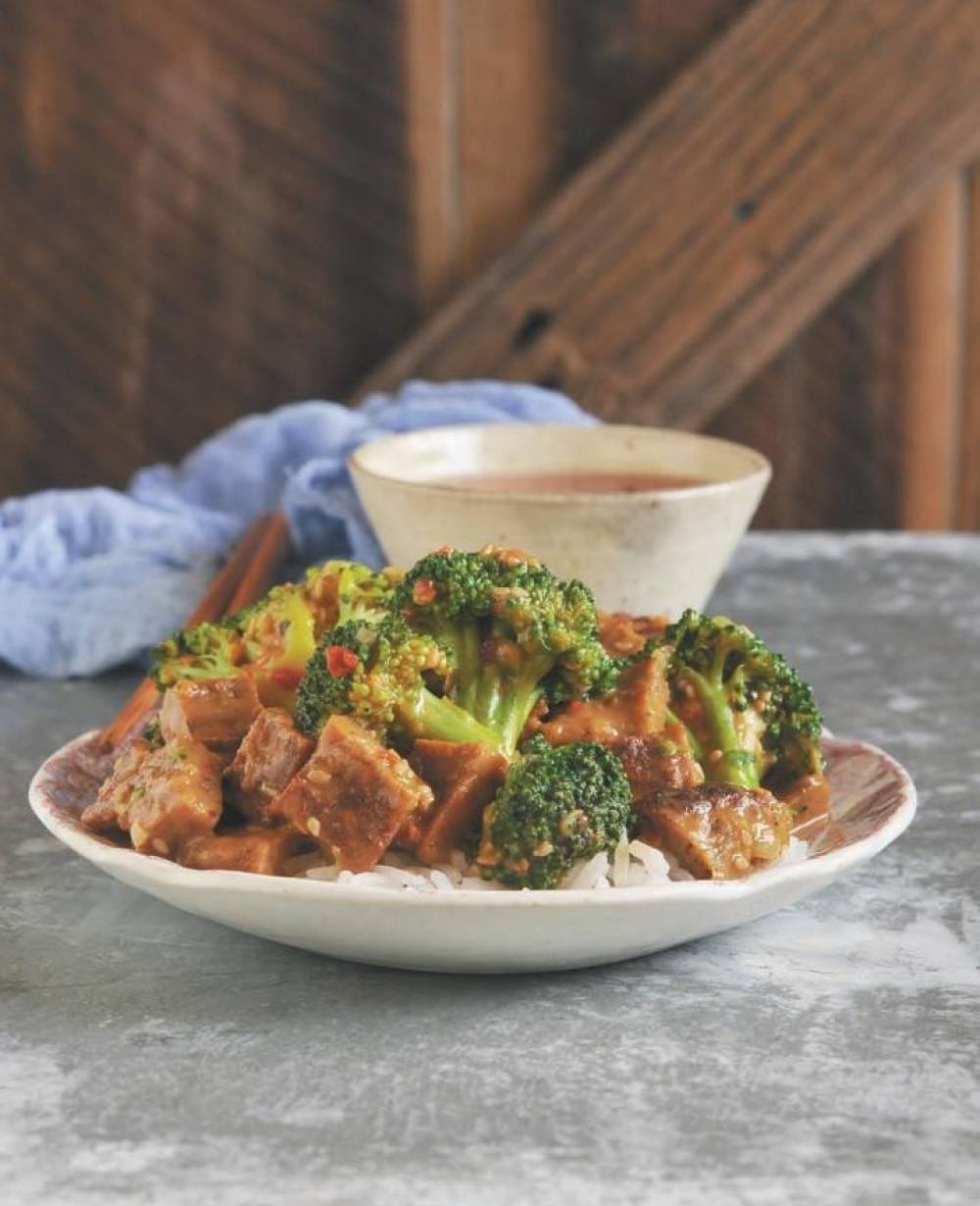 ► Makes 4 Servings
1½ cups (355 ml) chilled vegetable broth, divided
3 tablespoons (45 ml) tamari
2 tablespoons (30 ml) seasoned rice vinegar
1 tablespoon (15 g) sambal oelek, or to taste, optional
1 teaspoon sriracha, or to taste
5 tablespoons (40 g) cornstarch, divided
½ teaspoon 5-spice powder
12 ounces (340 g) Seitan or Tempeh (store bought), cut into bite-sized pieces, or 20 medallions
2 tablespoons (30 ml) high heat neutral-flavoured oil
1 head of broccoli, cut into florets
1 teaspoon toasted sesame oil
4 cloves garlic, minced
½ teaspoon grated fresh ginger root ⅓ cup (33 g) minced scallion
2 tablespoons (16 g) toasted sesame seeds
Salt and pepper
Rice for serving, optional
In a small bowl, combine 1 cup (235 ml) of broth, the tamari, vinegar, sambal oelek, and sriracha. Whisk in 2 tablespoons (16 g) of cornstarch. Set aside.
Combine 3 tablespoons (24 g) of cornstarch with the 5-spice powder on a plate. Dredge the seitan pieces in the mixture. Heat the oil in a wok or large skillet over high heat.
When the oil starts to ripple, reduce the heat to medium-high and add the seitan. It may spatter, so be careful. Cook the seitan for 4 to 6 minutes, stirring occasionally until browned.
Remove from the wok and set aside. In the same wok, cook the broccoli for 3 to 4 minutes until some edges are slightly brown. Add the remaining ½ cup (120 ml) of broth and turn the heat to high. Stir and cook for 3 to 5 minutes until the broccoli is bright green and still slightly crisp.
Do not overcook.
Add the sesame oil, garlic, ginger, scallion, and sesame seeds. Return the seitan to the wok and pour in the sauce mixture. Cook for 3 to 5 minutes, stirring, until thickened. Season to taste and serve with rice, if desired.