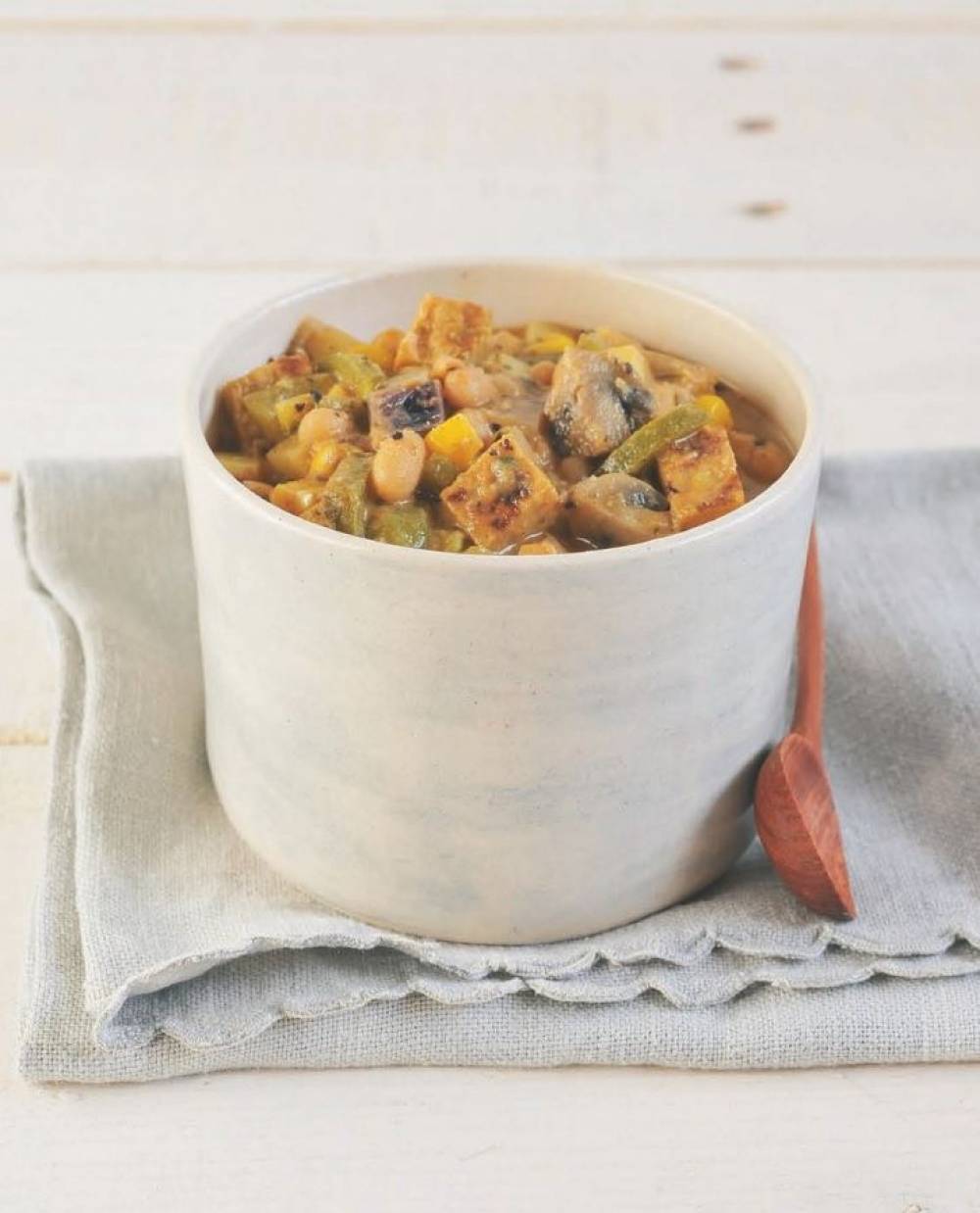 ► Makes 4 Servings
1 tablespoon (15 ml) olive oil
8 ounces (227 g) Seitan or Tempeh (store bought), cut into bite-size pieces
1 cup (160 g) chopped onion
4 cloves garlic, minced
2 to 3 small white potatoes (180 g), chopped into small cubes
4 ounces (113 g) mushrooms (any kind), quartered
1 poblano pepper, seeded and chopped 1 jalapeño pepper, seeded, and minced 3 tomatillos, husks removed, chopped 2 teaspoons ground cumin
1 teaspoon dried oregano
1 teaspoon dried thyme
1 teaspoon chili powder
½ teaspoon dried cilantro
¼ teaspoon ground black pepper
1 can (15 ounces, or 425 g) Great
Northern beans, drained and rinsed
½ cup (82 g) frozen corn, (run under hot water, drained)
2 cups (470 ml) vegetable broth, more if needed (See Recipe Note.)
Salt and pepper
Heat the oil in a large soup pot over medium heat. Add the seitan and onion and cook for 5 minutes, stirring occasionally, until the onion is translucent.
Add the garlic, potatoes, mushrooms, peppers, tomatillos, cumin, oregano, thyme, chili powder, cilantro, and black pepper. Cook for 3 to 4 minutes, stirring, until fragrant. Add the beans, corn, and broth.
Bring to a boil, and then reduce the heat to a simmer. The ingredients should be covered by the broth. If not, add broth as needed. Cook for 30 to 45 minutes, stirring occasionally, until the potatoes are tender. Taste and adjust the seasonings.
Recipe Notes
The amount of broth needed will depend on the type of pot used. Have extra broth on hand, just in case.