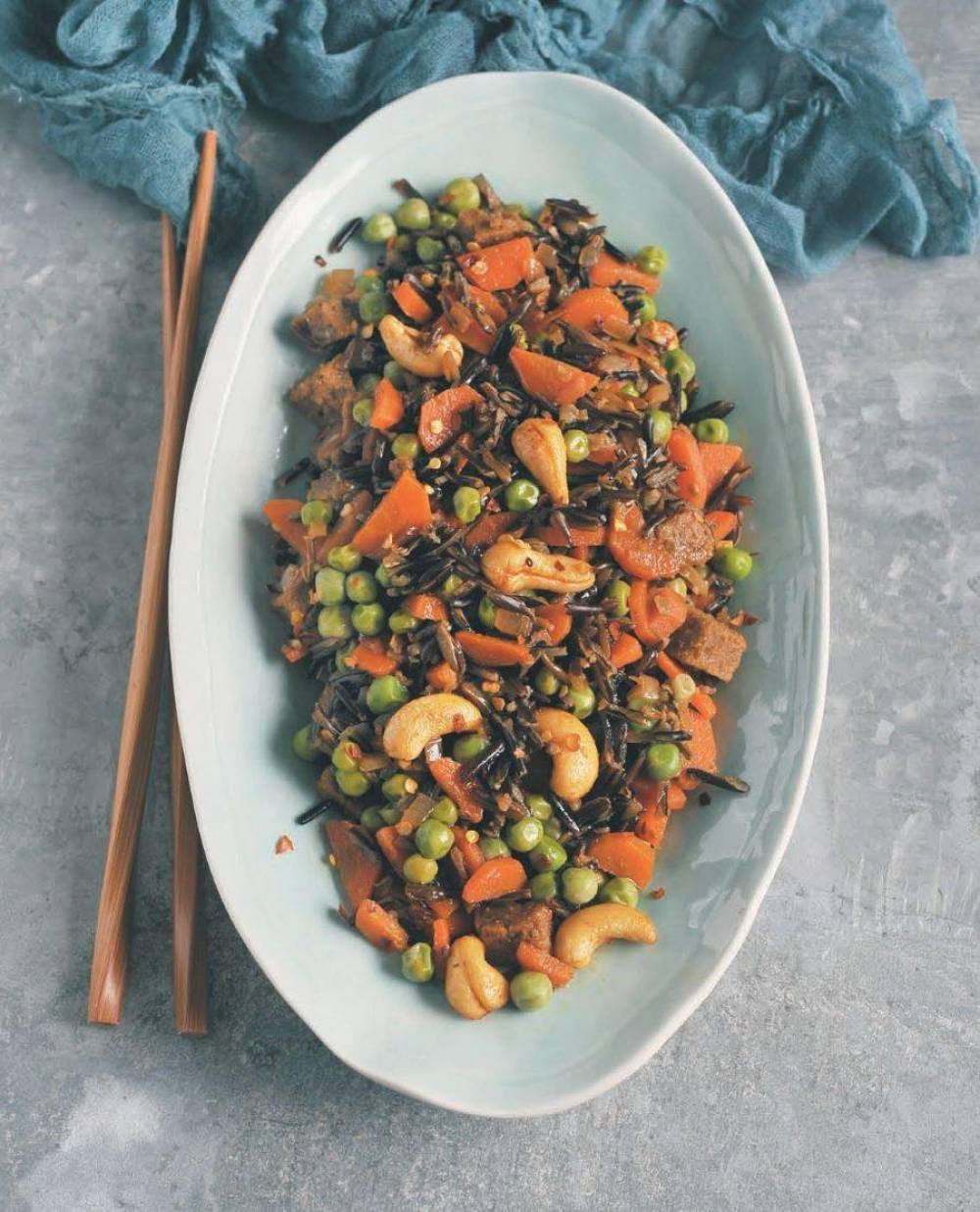 ►Makes 4 to 6 Servings
FOR THE CASHEWS:
1½ teaspoons toasted sesame oil 1½ teaspoons agave nectar
1½ teaspoons tamari
1 teaspoon onion powder 1 teaspoon sriracha
¼ teaspoon garlic powder
¼ teaspoon ginger powder 1 cup (140 g) raw cashews
FOR THE PILAF:
1 cup (160 g) dry wild rice, rinsed 3 cups (705 ml) vegetable broth 2 teaspoons toasted sesame oil
12 ounces (340 g) carrots, trimmed, peeled, and cut into thin half-moons (about 5 carrots)
⅓ cup (53 g) minced shallot
3 cloves garlic, grated or pressed 3 tablespoons (45 ml) tamari
3 tablespoons (45 ml) fresh orange juice
1½ tablespoons (30 g) agave nectar 1½ teaspoons packed grated fresh ginger root or ½ teaspoon ginger powder
¼ to ½ teaspoon red pepper flakes,
to taste
1 cup (150 g) steamed fresh English peas or thawed green peas
To make the cashews: Preheat the oven to 325°F (170°C, or gas mark 3). Combine the oil, agave, tamari, onion powder, sriracha, garlic powder, and ginger powder in a medium bowl. Add the cashews and stir to coat evenly. Place in an even layer on a parchment paper–lined rimmed baking sheet and bake for 8 minutes. Stir and bake for another 4 to 6 minutes until toasty and dry-looking, being careful not to let the nuts burn. Remove from the oven and let cool on the paper. Once cooled, use immediately or store in an airtight container in the refrigerator for up to 4 days.
To make the pilaf: Combine the rice and broth in a rice cooker. Cook until tender, about 40 minutes. Check for doneness and drain if ready. Add extra broth if needed.
In a large skillet, add the oil, carrots, and shallot and sauté on medium heat until the carrots are barely tender, about 10 minutes.
Combine the garlic, tamari, orange juice, agave, ginger, and red pepper flakes in a small bowl. Add ¼ cup (60 ml) of this mixture to the carrots, cover, lower the heat, and simmer until completely tender, about 6 minutes. Stir the wild rice and green peas into the carrots, add the remaining tamari mixture, and simmer for another 4 minutes. Stir the nuts into the rice mixture. Serve warm.
Leftovers can be stored in an airtight container in the refrigerator for up to 4 days and gently reheated.
Recipe Notes
For a saucier dish, combine 1 tablespoon (15 ml) fresh orange juice with 1 tablespoon (20 g) agave nectar, and fold into the preparation after reheating.